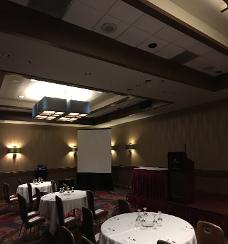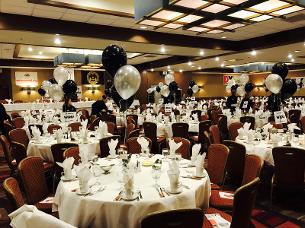 Balloons can take your event to the next level. If you have an idea, Great! If not that's OK too! We will work together to make your event magical. Indoor or outdoor, helium or air, we can do it all.
Balloons can be a great filler for a plain location as well as transform an ordinary stage into an elegant backdrop. Your options are endless!
Call us today to Book your Balloons for your next event.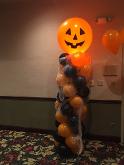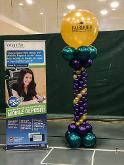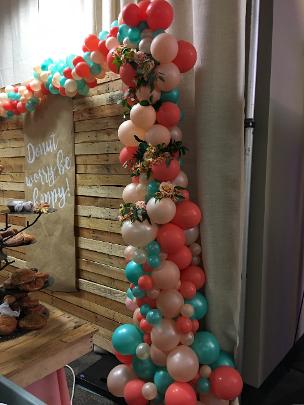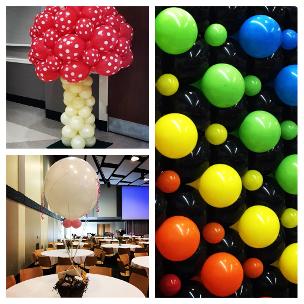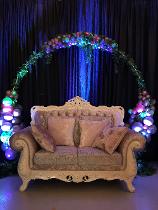 Here are some tips to consider;
* Helium balloons will cost more than air filled balloons. Alternative options to helium balloons can be jumbo balloons hung from a ceiling, décor, arches and columns. Ask us about alternative uses to decorate your event with air to extend your budget further with more balloons.
* Helium balloons unless specified by us or requested by you, will be delivered with high-float treatment. This treatment allows the balloons to last for days instead of for hours. To achieve maximum float time out of your balloons; keep them indoors, out of direct sunlight, and in cooler spaces.
* When choosing balloon sizes for bouquets, larger balloons (16") will fill out the room much faster than smaller 11" balloons. See the example pictures below to compare. We can help you determine which will be the best for your event and how to fit your budget. Balloon sizes are typical sizes, actual sizes are brand dependent, balloon type, and How they are to be used.
* Color Charts are shown below, determining the colors needed for your event in advance can prevent mismatching alternate shades of the same color. We can assist you with color selection. Balloons are either Jewel (semi transparent), Solid Color, Metallic, Pastel, and Neon.
• Do not release foil balloons into the air. Although it is very rare, they can cause problems if they are tangled in power lines and can turn into roadside litter if not disposed of properly.

• Keep deflated or popped latex balloons away from small children to avoid risks of choking. Children can choke or suffocate on uninflated or broken balloons; adults should always supervise young children —especially those under 8 years-old—with balloons.

• Although it rarely occurs, some people are known to have a "latex allergy." Latex balloons are made of natural rubber latex and are biodegradable, but may cause allergic reactions in people who are allergic to natural rubber latex. There are alternatives for balloon décor that don't require the use of latex. Contact us today to find out about our foil balloon décor.